01/09/14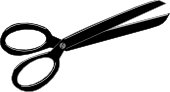 There's much to be said for the effect of practice. Combine it with a willingness to blunder, stumble, stall and fail. There you have a formula for accomplishment.
I'm going to avoid the use of "success" because it implies an end point. It also suggests that you have some sort of official recognition. When developing any skill, I prefer to take my practice as it comes, to focus on something for a while to improve, to satisfy myself that I am making progress. If I get recognition, let it be. If I do not, let it be.
For some time, since 2010, I've been doing clipart and publishing it on my website, http://runeman.org/clipart/ where you can look to make your own judgement. I'm happy. I believe I've moved intermittently ahead in my skills with the marvellous open source / Free Software design program, Inkscape.
It does help that I sometimes use the images in my blogs and other places. That gives me a "goal" of sorts. The other thing is sharing the graphics to benefit others. I commonly upload the design file (svg format) to openclipart.org (with public domain dedication) in addition to my own site. There have been a few graphics that have been "liked" and some have been downloaded from openclipart to be reused, reworked, republished. That is wonderful.
Sharing is good.